"

"Mike Chenoweth (is) a very accomplished and talented musician..." -Andrea Nixon (Singer/songwriter, recording artist, Edmonton Music Awards nominee and CBC Searchlight regional semifinalist.) "I can attest to Mike being an excellent performer as I have in the past booked him several times!" -Daniel Huber (Talent buyer.) "Mike Chenoweth is a long overdue addition. Amazing guitarist and added character to the show." -Emo Leblanc (International performer, recording artist and band leader.) "Mike Chenoweth is a great musician and I recommend seeing his show!" -Leah Disney (Talent buyer and house concert promoter.) "Get out and see this man. Good tunes, good playing and strong presentation. And best of all, totally organic." -Don Johnston (International performer and recording artist.)"
Michael Chenoweth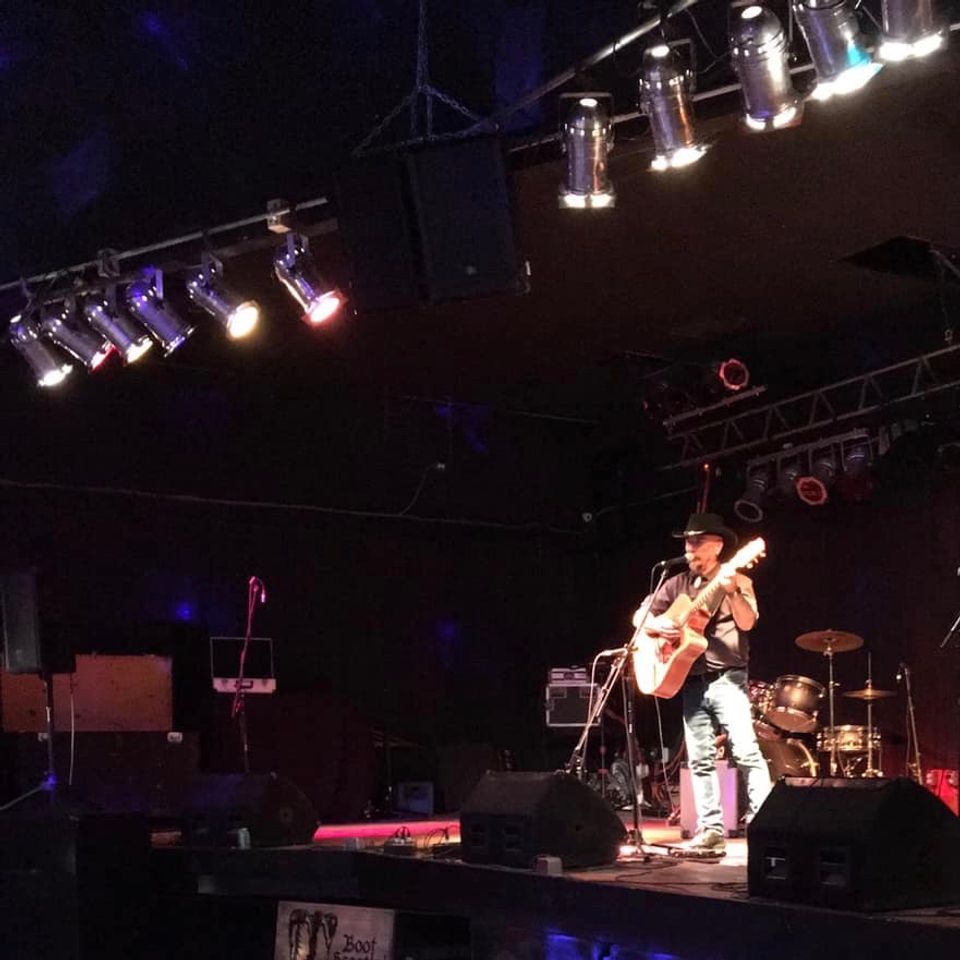 "Blues King Set To Play New Neighbours"
Mike Chenoweth to perform at New Neighbour's Pub July 16. Hannah Lawson Athabasca Advocate Staff
The New Neighbour's Pub will be swinging to some groovy tunes July 16 during an eclectic performance by Edmonton-based Mike Chenoweth.
There's a misconception when you say the word "Blues". For those who may not be very familiar with the genre, they may be expecting music that's kind of mellow and low down," Chenoweth said. "Nothing could be further from the truth. Blues tends to be very party-like music. I'll be bringing all my best stuff!"
In addition to his three guitars, Chenoweth will be joined by Athabasca musician Andy Delorme.
Chenoweth said he will be performing a wide range of material including Rn'B, Blues, Funk, Swing, Folk and old-school Rock and Roll. "I tend to keep things pretty varied up," he said. "My main focus is getting the whole room involved, getting people having a good time and dancing and having a lot of fun."
Born in Woodstock Ontario, Chenoweth picked up his first guitar when he was 12 and by age 14 was playing his first paid gig on drums. He played in many rock bands in the 1980's and early 1990's before his career permanently took a turn for The Blues. 
"I'm getting out on the road more, developing more of a touring aspect and adding to my fan base by getting out on the road and new towns and new venues like The New Neighbour's Pub in Athabasca," he said. "I've never played Athabasca before and I'm really looking forward to having some fun with the good people of Athabasca. I hope everybody turns out and has a good time." Admission for the show is free and the show starts at 9 p.m.
"FESTIVAL PLACE TO WELCOME MICHAEL CHENOWETH"
Travis Dosser
Sherwood Park News
Published November 17, 2020
A musician known for his skills and sounds that range from Blues, Roots and Rn'B to Rock and Roll is set to take the stage at Festival Place.
Chenoweth said COVID-19 has affected his performance schedule this year.
"I was originally booked to present an all-instrumental show but I was recently informed that I would be allowed to do some singing as well, so I'm looking forward to that", Chenoweth said. "The Festival Place show is my first show under my own name at that venue and I am deeply honoured."
Chenoweth said his solo show is a mix of a lot of favourites. "I'm largely a performer of Blues, Roots and Rn'B. I play a number of acoustic instruments but I'm largely guitar-oriented."
The musician noted it has been a tough year for performers and he is happy to be able to get back to doing what he loves.
"When everything came to a screeching halt, my entire year was wiped clean and although I have some friends who have helped me with backyard parties or private functions, I really haven't had any takers on the club front. I'm very thankful for this opportunity to play at Festival Place. It is a real treat!"
Since the COVID-19 pandemic started, Chenoweth said he has played a few shows but they have been instrumental performances. "I've done a few acoustic shows over the last while and it is quite a treat to be able to just concentrate on the instrument itself. I found that if I didn't have to split my concentration in a number of directions, I found that I could focus on bringing a few things out of the guitar itself that wouldn't normally occur to me. I'm very excited about getting back to singing though, because most of what I do is vocally and lyrically oriented."
Chenoweth said this is the biggest show he's booked since March and is eager to get his guitar in hand and take his place in front of the mic.
"It is my first performance at this level since March. I've done some smaller shows around town and in the area but certainly nothing of this magnitude," Chenoweth said. 
Tickets, although a limited number, are still available for the show and can be purchased through Ticketmaster or at the Festival Place box office.
Press Photos